Good Tuesday evening!
I hope you all had a great Thanksgiving and were able to spend quality time with loved ones and get some great deals! I was able to accomplish all of that and only managed to end up with 3 bottles of nail polish for myself (on Friday, that is)!
Tonight, I have a GORGEOUS color for you, at a great price.
Lets get to it!
This is CoverGirl Outlast Glosstinis in Sangria.
Let's talk
about this beautiful polish. I applied this at night-two easy coats over Orly Nail Armor, topped with one coat Beauty Plus Salon top coat and then the next day, one coat of NYC Grand Central Station. GCS is a HG (holy grail) topcoat for a lot of bloggers so I thought I'd try it out. The verdict is not in yet.
Anyways, Sangria is the perfect name for this polish because the color evokes balmy summer nights sipping the namesake drink on a patio with some of your girlfriends. It's a juicy reddish-pink with slight orange undertones, and it's shot through with a pearly shimmer. And it is SHINY!
I may need a back up of this one. It wore for four days with minor tipwear and a few teeny chips. I wanted to take it off and put it right back on, which is a rarity! I can't believe I passed this over when the Glosstinis first came out over the summer.
I purchased my bottle at Ulta for $3.49 but these can be found at most big box stores like Target, Walmart, and KMart, as well as grocery stores (Wegmans or Tops if you're in the Buffalo, NY neck of the woods).
What has been a sleeper hit for you? What polishes are you lovin on lately?
I'm out of here because: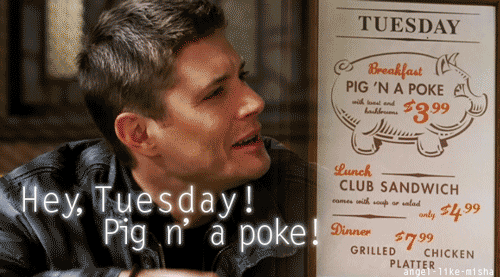 It's Tuesday and Supernatural is on.
Where are my Supernatural fangirls?!
xo, ali