*some items won or gifted*
Hey! Happy Sunday. Sorry I haven't been around this week. My parents are in town and I was maid of honor in my best friend's wedding, last night. I've had the mani done and photographed but tonight, I was able to sit down and edit pictures and chat with y'all.
As you know, this month's theme is Tea Party and it can be interpreted a lot of different ways. For this mani, I took inspiration from a vintage tea cup that I found on Etsy. After all, what's a tea party without the tea cups?
We'll start with the inspiration and the colors that I used.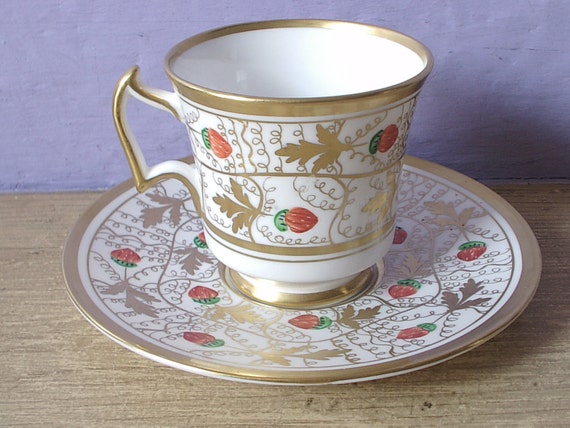 I fell in love with this 1940's cup from an English tea set. Look at those little strawberries!!
I used four colors in this mani:
I used Nicole by OPI Yoga Then Yogurt, Gridlock Lacquer Bucket List (Niagara Falls Collection), Avon Garden Green, and Color Club Mamba
I already had my nails painted with three coats of Gridlock Lacquer Bucket List from the Niagara Falls collection that was released this summer. It's a pretty, pale, yellow-toned gold shimmer. Next time, I might layer it over a pale creme to save on the polish.
I stamped with Nicole by OPI Yoga Then Yogurt, that I won from
stuff I (s)watched
's 3rd blogiversary giveaway (Thanks, Rach!). I used an image from Bundle Monster Create Your Own set-plate number BM-406. Once that was dry, I used Color Club Mamba and Avon Garden Green to freehand strawberries. Here's the finished product:
I'm way behind this month but thing's should be quieting down so I can get the last two mani's in before September creeps up.
Be sure to check out what the other ladies did, below!
xo, ali